Posts: 2654
Joined: Sun Jan 07, 2007 8:34 pm
Location: Crested Butte, CO
Going to Oregon in early April, the plan is to fly into Portland and ski Hood/Bachelor while I'm there. I was wondering if anybody had any recommendations for things to do or must see? How is the snow situation that time of year?
---
Posts: 1233
Joined: Tue Feb 26, 2008 2:55 pm
Location: Longmont
There will be alot of snow that time of year and the weather will not have stabilized as much as it does later into the early summer. If you are down by Bachelor, the South and Middle Sister are a good time, but the snow closures on the HWY will add quite a bit of distance to your trip. If you're into rock climbing at all, Smith Rocks is a very cool place to go, and the weather there is usually much warmer and drier than in the central valley. If you're into waterfalls there are a lot and many are right off of the main roads. The coast is often very beautiful as well although it does rain quite alot there even into April. Other than the rain, I like Oregon alot.
South Sister looking north in Mid June. We were on snow from the car to the summit.
Monkey Face. Excellent and exposed climbing for the grade (5.7 C0).
Sahalie Falls (not my picture)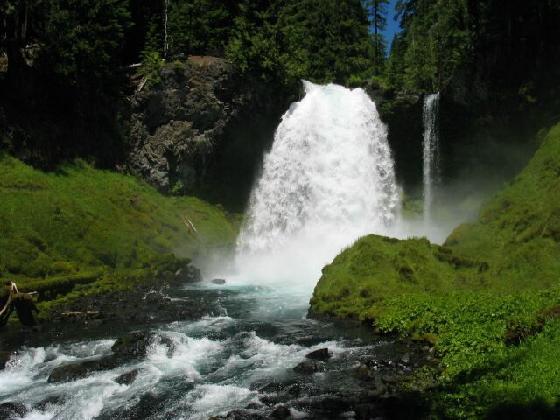 Sunset on the Pacific from near Florence
---
Posts: 2322
Joined: Fri Feb 24, 2006 1:12 pm
Location: Denver
Yeah, the scenic byway to South Sister's southern TH had just opened when I was there in early June (of 2012), but Bend is certainly a cool town. It reminds me of Fort Collins to a certain extent, without a major college. Seems like Bachelor/Bend is more similar to the semi-arid environment of Colorado, being on the East side of the Cascades and Hood is more in the center, closer to the more lush, west side. I've also always been intrigued with all the waterfalls of the Columbia River Gorge off 84 between Portland and Hood River (slightly north of Hood), but I have no idea of access to any of it in April. Oregon definitely is a cool place.
---
Posts: 1710
Joined: Mon Jun 14, 2010 2:44 pm
Ski Timberline/ski bowl at night (night skiing is sorely missing from CO resorts).

The sisters are a multiday trip until June at the earliest but skiing at Bachelor (should you be lucky enough to get a clear day) gives AWESOME views of the sisters and broken top. Eat breakfast at brown bear cafe in Bend, it never disappoints.

Also, as Smith can be very climable and not crowded in April, it's the best time to be there IM, and if you can climb 10+ on gear, trout creek could be worth the hike.
---
Posts: 179
Joined: Fri Sep 28, 2012 2:28 pm
Location: Monument & Breck
Have only been there once, in 2011, but I got some insider tips before hand from a friend who lived in the Portland area for 21 years. Great trip. SO much to do/see that we didn't get to. Can't wait to go back. Love Oregon!

Portland: The Pearl District is the place to go for a fun night out. Brew pubs...Deschutes and Lucky Lab were good. We did a guided bike tour of downtown. Got to see the sights and get the history behind them. Portland bills itself as the most bicycle friendly city in the country.

As others have said...the waterfalls along the Columbia Gorge!

Didn't get to the mountains much...just a quick loop around Hood. Even if you don't ski Timberline, the Timberline Lodge is worth checking out. Fascinating building in an incredible location.

If you are lucky enough to get a forecast that allows some beach time: Cannon Beach...close to Portland. Great little town and seafood! When the tide was out, we rented retro bikes and cruised for miles down the beach to some sea caves. Very cool experience. Ecola State Park is right next to Cannon. It has hiking trails with stunning views. BTW.. don't go to Seaside, on the other side of Ecola. It is a pit.

An hour or two drive south of Cannon. Cape Kiwanda. Giant sand dunes. Hike up to the top right at sunset with a bottle of wine. At the base of the dunes is a beach where they allow a campfires. A couple hundred yards behind that... right on the beach, is the Pelican Pub.

Have fun!
Attachments

Ecola State Park.JPG (169.11 KiB) Viewed 385 times

Cruisin' Cannon Beach.JPG (112.82 KiB) Viewed 385 times
---
Posts: 31
Joined: Sun May 06, 2012 5:05 pm
Its my favorite state, you won't have any trouble keeping yourself occupied.. You can pretty much drive in any direction and find something beautiful to explore.
---
Posts: 2654
Joined: Sun Jan 07, 2007 8:34 pm
Location: Crested Butte, CO
thanks for all the suggestions...going to try and spend a bit of time around the coast as well.

Does anybody know if the mountain biking around bend will be dry in April?
---
Who is online
Users browsing this forum: AndYouSeeMe, Bing [Bot] and 21 guests