Moderator
Posts: 1632
Joined: Thu Aug 04, 2005 9:46 pm
Location: San José del Cabo, Baja Sur, México
---
Posts: 132
Joined: Sat Aug 07, 2010 9:37 pm
Location: Fort Collins
If you were to enter my gear room right now there is a high probability that you would trip over an array of backpacks and impale yourself on a number of crampons, ice screws, and tools....Though there is a chance you would fall into a pile of down bags lol. I suppose I should do some cleaning first!
---
Posts: 1934
Joined: Fri Sep 08, 2006 1:11 pm
Location: Colorado Springs
I have one of these hanging on the livingroom wall. It holds up to 600 pounds of gear. Everything else goes on the floor. Just one of the many wonderful benefits of living alone - you can put your gear wherever you want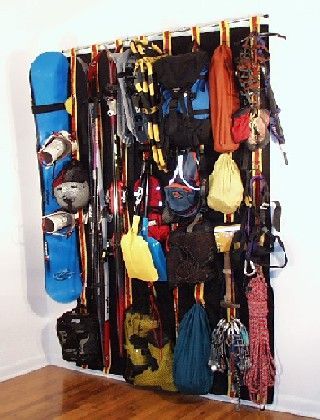 ---
Posts: 655
Joined: Wed Aug 01, 2007 12:16 pm
Location: Aurora, CO
susanjoypaul wrote:I have one of these hanging on the livingroom wall. It holds up to 600 pounds of gear. Everything else goes on the floor. Just one of the many wonderful benefits of living alone - you can put your gear wherever you want
That's cool, Susan! Now I am REALLY ashamed of the dozen or so nails I have holding up my stuff in my garage....
I take the mountain climber's approach to housekeeping - don't look down
---
Posts: 1934
Joined: Fri Sep 08, 2006 1:11 pm
Location: Colorado Springs
Aww... don't feel bad, Jay. That silly thing cost me $200, but I do use the heck out of it so I feel like I got my money's worth. Also, you only have to put 4 holes in the wall. I bought it online here:
Gear Storage Systems
I don't know if there's a way to order it via "Bill's Links."
---
Posts: 2273
Joined: Fri Feb 24, 2006 1:12 pm
Location: Denver
Main portion - Skis (Ski Logik Yeti,s Howitzers, Raves and Icelantic Nomads) boots (Salomon Quest 110's, Garmont Adrenalin's), sleeping bags (Montbell 0 and 30), ropes (Mammut 9.5, Edeilweiss 10.2), poles (2 pair BD flicklocks, BD Whippet) and all camping supplies stuffed in 155L Duffel (BA Fly Creek 2, REI Arete 3, Thermarest pad, BA Insulated Air Core, Thermarest foam)



Packs - Gregory z35, Osprey Aether 70, Deuter Guide 45+, Osprey Kode 30, Gregory Iso 18 (gloves, gaiters, skins, headlamps, crampons in drawers).....



Jackets (I make a point to use all of these - Montbell Light Alpine Parka, Montbell UL Down, Cloudveil Koven Hardshell, Patagonia Untracked Ski Jacket, 2 Patagonia Guide Softshells, REI Revelcloud Synthetic Hoody, Cloudveil fleece, overpriced Gapertery'x rain jacket)


---
Posts: 2453
Joined: Wed Jun 17, 2009 4:19 pm
I'd make a plea for complete, dedicated gear stashes. That is dont try to share things like cooking utensils, flashlights, most clothing etc with other household uses. Two reasons: (1) Its easy to forget something important then. I've done this way too many times. (1) It speeds up packing and unpacking by a significant amount of time. If you are are going on dozens of trips a year and you cut an hour or more this way, it really adds up.
I have not decided whether its worth it to maintain separate stashes for each kid of trip- day hike, car camping, backpacking, winter, climbing etc. But similar reasoning applies.
---
Posts: 210
Joined: Tue Sep 06, 2011 6:30 pm
Location: Littleton, CO
susanjoypaul - I have one of those gear storage systems too. Will take a picture and post later if I remember! Between my stuff and my fiance's, we have outgrown our big one and have been considering getting another to make a his & hers, haha
---
Posts: 274
Joined: Mon Jul 18, 2011 1:42 pm
Location: Colorado Springs, CO
Nice set ups.... When I get home ill post a pic of the gear explosion in my spare bedroom that I haven't cleaned up since last weekend.... <face palm>
"Roads? Where we're going, we don't need roads...."
---
Posts: 123
Joined: Mon Aug 15, 2011 8:10 pm
We recently moved in to a new place after a three-month road trip. The new place has a single car garage that my truck doesn't fit in...so...I obviously couldn't let the space go to waste. These pictures are after getting almost everything unpacked, but not quite organized.
The bookshelves hold random backpacking/glamping gear. Tents are in the bottom right, though they're hard to see, sleeping bags are obviously up top. Pretty much everything else is stuck in an Ikea bin. The horrible green dresser holds base layers, gaiters, etc. The storage boxes stacked around it were from our trip. They didn't work out as well as I had hoped, so their future is up in the air. The small grey Ikea drawers between the cooler and bike hold small gear (knives, extra headlamps, lighters), some bike components, and items for gear repair. The work table is copied from one in Backpacker a couple of years ago (plans
here
).
The pegboard holds packs, eventually some tools and climbing gear, but I haven't gotten that far in my organization yet.
---
Posts: 907
Joined: Mon Aug 08, 2011 2:34 pm
Location: Northglenn
Is there a thread somewhere about how to do "gear laundry"? Specifically down sleeping bags and jackets, backpacks and Smartwool. I feel like it's not a straightforward procedure. Some of my things are getting a little tattered; some I've never washed because I'm afraid to.
"Mountains seem to answer an increasing imaginative need in the West. More and more people are discovering a desire for them, and a powerful solace in them. At bottom, mountains, like all wildernesses, challenge our complacent conviction - so easy to lapse into - that the world has been made for humans by humans. Most of us exist for most of the time in worlds which are humanly arranged, themed and controlled. One forgets that there are environments which do not respond to the flick of a switch or the twist of a dial, and which have their own rhythms and orders of existence. Mountains correct this amnesia. By speaking of greater forces than we can possibly invoke, and by confronting us with greater spans of time than we can possibly envisage, mountains refute our excessive trust in the man-made. They pose profound questions about our durability and the importance of our schemes. They induce, I suppose, a modesty in us."


― Robert Macfarlane
---
Posts: 790
Joined: Sun Mar 23, 2008 6:07 pm
Location: The High Country
Shoot. I already see some new ideas on here. Back to the drawing board. It is slightly embarrassing, but I will post up some more photos of what we have going on. And before you say it, we do have too much stuff. We are looking to get on the new A&E show "Gear Hoarders" though.
Gear room:
Hunting and fishing gear room:
And ski and ultimate car camping gear storage:
In my defense, the outdoors have been my occupation for 5 years, and yes that is a working mechanical bull in the garage.
Always follow the 7 P's. Proper Planning & Preparation, Prevents Piss-Poor Performance.
"An adventure is misery and discomfort, relived in the safety of reminiscence." --Marco Polo
www.CalebWrayPhotography.com
---
Who is online
Users browsing this forum: No registered users and 17 guests