Posts: 350
Joined: Sun Aug 02, 2009 7:41 am
Location: Erie
Hiking Grizzly Peak D yesterday, I didn't expect to actually FALL IN to the mountain: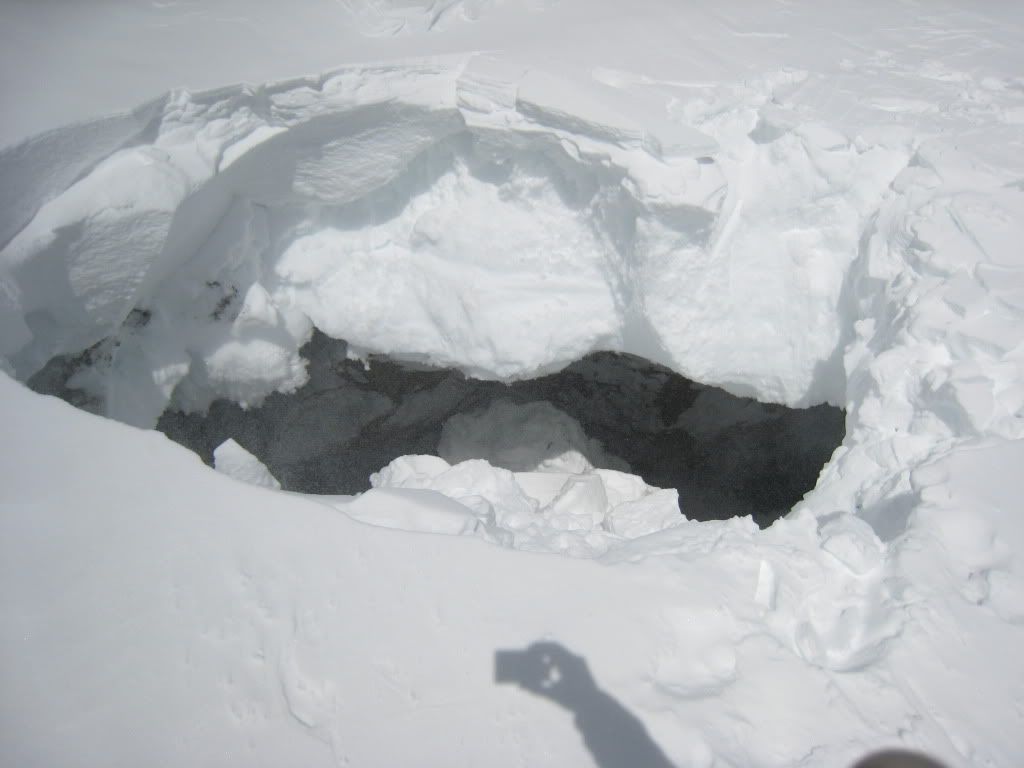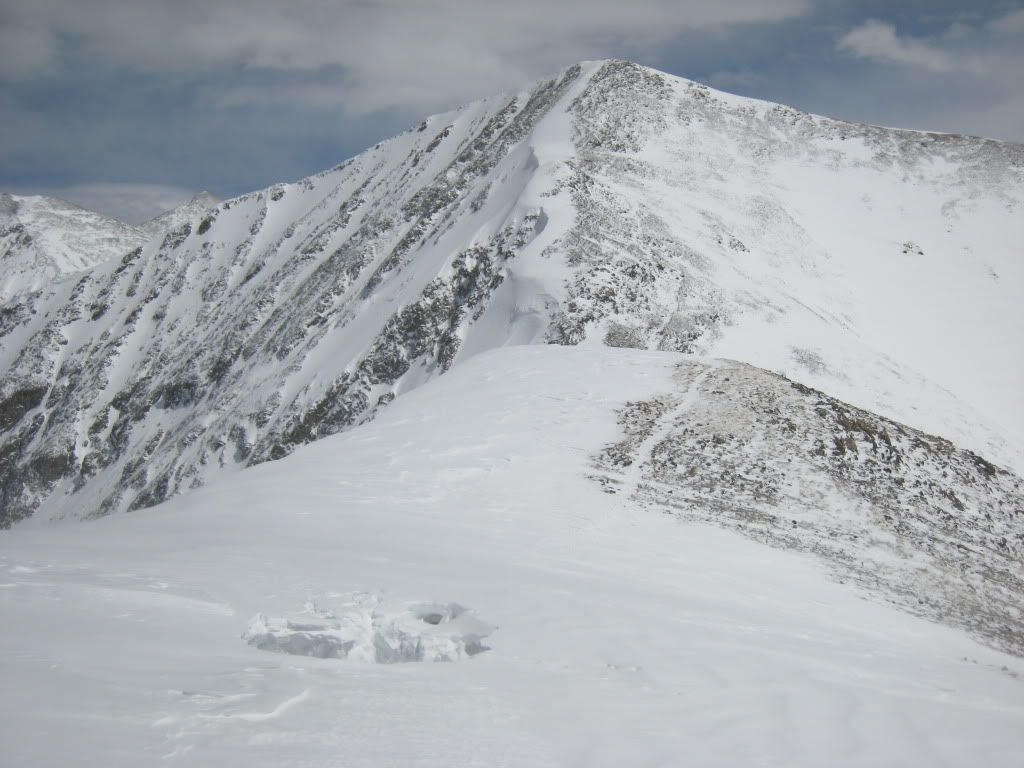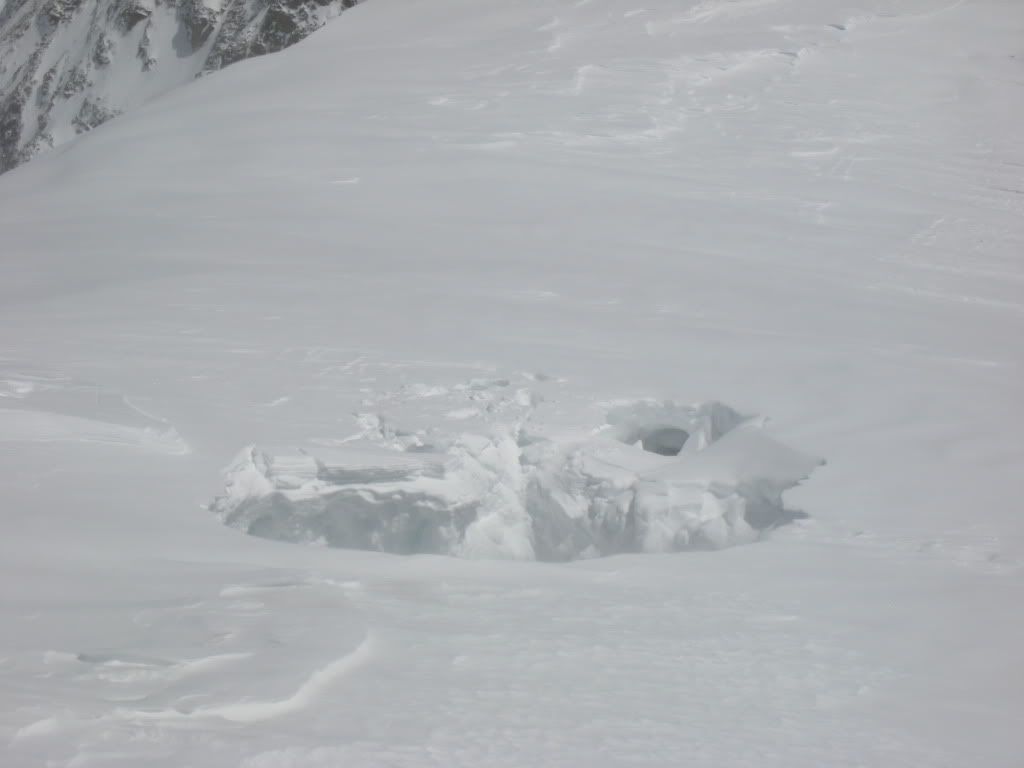 I was returning back to my car from Grizz and all of a sudden, quietly and smoothly, the ground opened up and caved in, and I found myself bracing to not get injured. Fortunately God didn't have injuries in the books for this lesson; just a little fright-filled experience. I was now completely under the "ground" I thought I was just walking on moments earlier.
I could see that I could have sunk much more down into this huge air pocket, but I was somehow standing on snow just firm enough not to let me fall in all the way to the rocky "true ground" below. But as I tried to very slowly push off with my feet and reach out with my arms towards the snow surface, it wanted to let me sink in further. I then tried grabbing with my arms at the thick snow that was above me, that I had just been strolling on, but the sun had been softening it throughout the day enough that it simply came in with me into this weird hole.
After only a couple minutes of slow, cautious attempts at escaping (no
one
else was around), it was obvious I needed to spread out my weight and not just put it on my feet, because it just wanted to crumble beneath me. So I lifted
one
leg slowly and placed my shin on some snow that had half-fallen in with me, and it held! So I pushed off with that shin, reached up & out of the hole with my poles and forearms and was able to slowly crawl out.
Things I learned:
-Don't EVER assume the ground is GROUND unless you can see some of the ground/rocks/grass through the snow.
-Don't hike alone (my friends were at the car, but still)
Anyone else have an experience like this, or have any further lessons to share?
---
Good thing it didn't happen on a cornice! Glad you're okay.
---
Posts: 2734
Joined: Wed Nov 02, 2005 9:49 pm
tmathews wrote:Good thing it didn't happen on a cornice! Glad you're okay.
That's a cornice.
The lesson: stay waaaaaaaaaaaay far back from the edge of cornices, farther than you may feel necessary.
---
Posts: 1098
Joined: Wed May 03, 2006 8:21 pm
Location: Moab, UT
Mountain_Ninja wrote:Anyone else have an experience like this, or have any further lessons to share?
It appears that you stepped out onto the tail end of a cornice caused by the wind blowing from the other side of the ridge and accumulating in a pocket there causing it to look like the continuation of the ridge. Luckily the ridge had a moderate slope to it and not a drop off or you might have punched through completely or had the whole cornice break off. In my experience, it is best to avoid getting to far off the bare/wind blown ridge whenever possible during winter hikes and keep on the look out for pockets like these (staying in the shallower snow in the right hand side of your second picture for example). Walking across cornices like this and causing them to fracture is also
one
of the main ways that avalanches are set off below ridges as well - so be careful.
"I want to keep the mountains clean of racism, religion and politics. In the mountains this should play no role."
- Joe Stettner
"I haven't climbed Everest, skied to the poles, or sailed single-handed around the world. The goals I set out to accomplish aren't easily measured or quantified by world records or "firsts." The reasons I climb, and the climbs I do, are about more than distance or altitude, they are about breaking barriers within myself."
- Andy Kirkpatrick
---
Posts: 2236
Joined: Mon May 23, 2005 6:44 am
Consider yourself extremely fortunate. It could have been
worse
.
---
Bean wrote:That's a cornice.

The lesson: stay waaaaaaaaaaaay far back from the edge of cornices, farther than you may feel necessary.
Oh, crap. Yeah, it is. I was primarily looking at the last photo.
Last edited by
tmathews
on Wed May 04, 2011 2:14 pm, edited 1 time in total.
---
Site Administrator
Posts: 7522
Joined: Sun Jul 25, 2004 7:34 pm
Location: Breckenridge, CO
Bean wrote:

tmathews wrote:Good thing it didn't happen on a cornice! Glad you're okay.

That's a cornice.

The lesson: stay waaaaaaaaaaaay far back from the edge of cornices, farther than you may feel necessary.
+1
You were definitely out on the cornice a bit. Sometimes a spot like that may appear quite benign but it's something you'll recognize the more you encounter it. Cornices in that area can be huge and, as kaiman mentioned, you were stepping out away from the terrain even though the leeward edge of the cornice was still a ways off.
Depending on the state of a cornice (stress of current snow weight load, fractures, recent temps, snow, etc.), it could be fragile enough to break off by moderate weight being applied to the windward edge. Obviously, the farther out you go, the greater the possiblity that it will cut loose but it's best to play it safe by staying on the rocks or where you know flat ground is just below the snow.
---
Posts: 110
Joined: Sat Feb 23, 2008 10:52 am
Location: Blue River, CO
Yikes, glad you were able to climb out of that unscathed!
It looks like you fell into a tension crack. These are formed when a cornice grows large enough to pull itself away from the ridgetop. They often become covered by a thin snow bridge which looks like solid ground, creating a 'trap door' effect not unlike crevasses in glaciated terrain.
Two seasons ago, I fell into
one
of these above Chihuahua Bowl on Lenawee Peak. Same deal, except I was on skis, and it was directly over a cliff, so I was essentially edging
one
some nubs of rock and looking down at huge black hole beneath my skis. I dislocated my shoulder in the process and, were it not for the quick actions of my partners, probably would have fallen deeper into the hole, off the cliff, probably fracturing the cornice and triggering a huge slide in the process. Definitely an eye opener.
Good advice from Bill and kaiman- stay waaay back from those beasts; sometimes the windward edge of the cornice can be especially dangerous, as you've demonstrated here.
"As for mountains, there are mountains hidden in jewels, there are mountains hidden in marshes, mountains hidden in the sky; there are mountains hidden in mountains. There is a study of mountains hidden in hiddenness." Dogen Kigen ,
Mountains and Rivers Sutra
---
Like Doug said -- consider yourself lucky, Brad. There have been numerous deaths recorded in the last year from people dying after falling through cornices -- most notably
Joe Puryear
.
Alan Michael Burns
Stephen Young
Monika Johnson
Cornices on long ridges can be exceptionally deceptive because the snow looks really deep and firm, but as you found out that's not always the case. Your best bet is to walk on any exposed rock that you see. I know it can be tempting to walk on the snow (usually easier on the feet) and also to try and see what is below it, but it's
one
of those temptations that you have to resist. When Bill and I were on the ridge below Ellingwood Point, he immediately suggested that I come back closer to the rocks when I started walking out a little too far (the east face of EP is REALLY dramatic). Last weekend on Crestone Peak, Abe was attempting to cross the notch between Crestone and East Crestone (I wasn't too far behind) when a small part of the cornice fell off and sped down the red gully. That was frightening enough for me; I couldn't imagine what I would have thought if what happened to you happened to any of us that day. These are lessons that I'll never forget.
I'm glad you decided to post about your experience. I know you're relatively new to snow travel, but I'm sure you're going to learn a lot just from the replies of those who have much more experience than you or me. If you had actually realized what had happened, your reaction to it probably would have been more profound. Thankfully, you weren't injured. A lot of people will learn an important lesson from this post.
Last edited by
tmathews
on Wed May 04, 2011 9:14 am, edited 1 time in total.
---
Posts: 802
Joined: Mon Feb 28, 2011 12:29 pm
Location: Boulder, dude
Ya Terry, that s*it was skecthy....
Sometimes the wench is not there when you need her the most.
Everyday is a
G
r
A
t
E
f
U
L
Day here in the CO
---
Posts: 7846
Joined: Thu Jun 08, 2006 1:23 pm
Location: Colorado Springs
In Gerry Roach's book
Orthogonal Adventures
, he tells the story of a cornice collapse that may have been in that exact spot. Scary. His partner fell about 500 feet down the slope but was unhurt.
Even scarier, I walked across in about that spot in early June 2007. After reading about SarahT's experience the following year, I've gotten a lot more careful about cornices.
Attachments

cornice.jpg (57.28 KiB) Viewed 3947 times
Climbing at altitude is like hitting your head against a brick wall — it's great when you stop. -- Chris Darwin
---
Posts: 350
Joined: Sun Aug 02, 2009 7:41 am
Location: Erie
Thank all of you guys for your knowledgeable insight!
The sad part is, I had JUST GOT DONE telling my 2 buddies about how dangerous cornices are, and about SaraT's story on Lenawee. I read it a couple weeks ago and it did stick way out to me, but I guess I just wasn't paying attention yesterday on Grizzly and yes, I got WAAAAAAY off the solid path. Don't let fatigue/bitter cold winds/hunger/anything take your focus off what you are doing!
Terry, you are totally right, I probably would have treated the situation with even MORE respect had I known in the moment how flippin' lucky I just was. It did occur to me as I took that last photo that I was traveling on a cornice bigtime, and the rest of that trip back to the car I was EXTREMELY CAREFUL to stay ON the rocks/exposed ground for every step. There were a few spots where I had to go "out of my way" to be sure I was on rock, but I had NO problem doing so, to avoid causing an avalanche (which it seems SHOULD have happened). In fact I was forced to cross a couple spots where I couldn't see the ground, and even though there was ground at a distance on either side of me (telling me I was still probably safe and on the ridge), I was VERY FREAKED OUT having to cross those spots.
Yes I hope people are able to read this and learn from my dumb mistake, that apparently I hadn't fully learned by reading SaraT's trip report.
I guess the severity of danger on cornices is finally starting to
"sink in"
...
---
Who is online
Users browsing this forum: No registered users and 1 guest