Posts: 38
Joined: Wed Feb 18, 2009 4:47 pm
Location: Arvada, CO
Wondering if anyone has any beta on the loop from goose creek trailhead to McCurdy park back around via Hankins pass to goose creek again.
It is usually okay this time of year but with the cool spring and recent snows I'm wondering if the melt off is behind schedule and if I'm going to be in for some post holing or not.


Thanks,
---
Posts: 178
Joined: Sat May 01, 2010 10:10 am
Location: Evergreen, Colorado
I hiked Goose Creek Trail 2 weeks ago and it was completely snow-free. Not sure about the Hankins Pass side (a bit higher in elevation). Hopefully the snow that did fall there this week melts out quick. @ that elevation it usually does.

I was hoping to do this exact loop this last monday, tuesday and wednsday. But, opted to drive to Grand Junction area for some warmth. Hope it's nice for you.
---
Posts: 38
Joined: Wed Feb 18, 2009 4:47 pm
Location: Arvada, CO
How close did you get to McCurdy Park? The part that concerns me to most is the north-facing switchbacks up to the park from refrigerator gulch. Also I am concerned about the lake park section that connect back with Hankins pass. That part is over 11,000. Looks like the weather is going to be decent early part of next week so maybe it will be a good trip!
---
Posts: 33
Joined: Sun Aug 23, 2009 8:19 am
Can you access the Goose Creek trailhead with a 2WD car or is it a rough road?
---
Posts: 178
Joined: Sat May 01, 2010 10:10 am
Location: Evergreen, Colorado
I don't recall any parts that would be too hard on a 2WD. It is not a really rocky road at all. The main concern I think would be any rutting in the road after a rain event. Ninety-five percent of the road is through the old burn area. You can see the serious erosion issues.

Wish I had more info about the rest of the loop, but I didn't get too far (late-start day-hike).
---
Posts: 133
Joined: Mon Sep 01, 2008 3:07 pm
Location: Fort Collins
Hello,

I did that loop last spring in early June. There were still patches of snow on the section from McCurdy Park to Lake Park. This year I would expect there to be more, especially this early. This is a fantastic loop, enjoy it!

By the way, I will be doing a loop that goes around Windy Peak in two weeks on the eat side of LCW. It tops out at 10,600' so I do not expect too much snow. I will post a conditions report.
---
Posts: 193
Joined: Thu May 07, 2009 4:10 pm
Location: Colorado Springs
I hiked the Lizard Rock Trail --> Hankins Pass Trail --> Lake Park Trail --> Brookside-McCurdy Trail loop on Fri. May 6th. Snow was easily avoidable until reaching the north side of "Tarryall Peak", where the snow got deep enough (a couple feet or so) that I wasn't able to find the trail; it was solid though and post-holing was not an issue. I'm sure they've probably gotten a bit of snow in the last week though. Hope these photos help, though I don't have a good one of the McCurdy Park area. Goose Creek area looked pretty snow-free from the summit of Lake Park Peak.
Hankins Pass: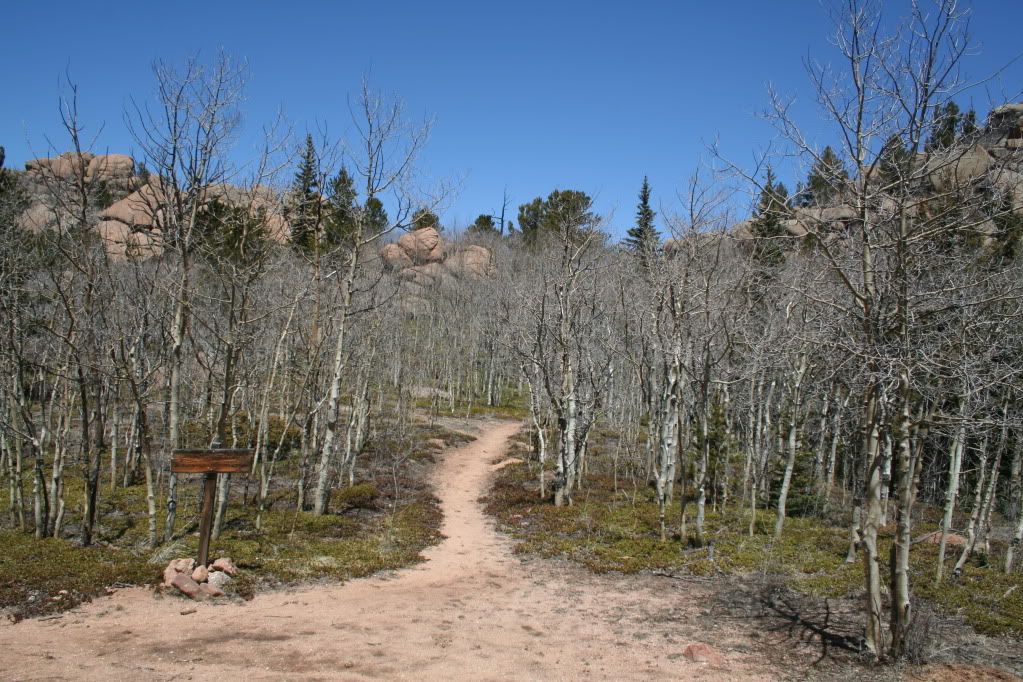 Northern slopes of "Tarryall Peak":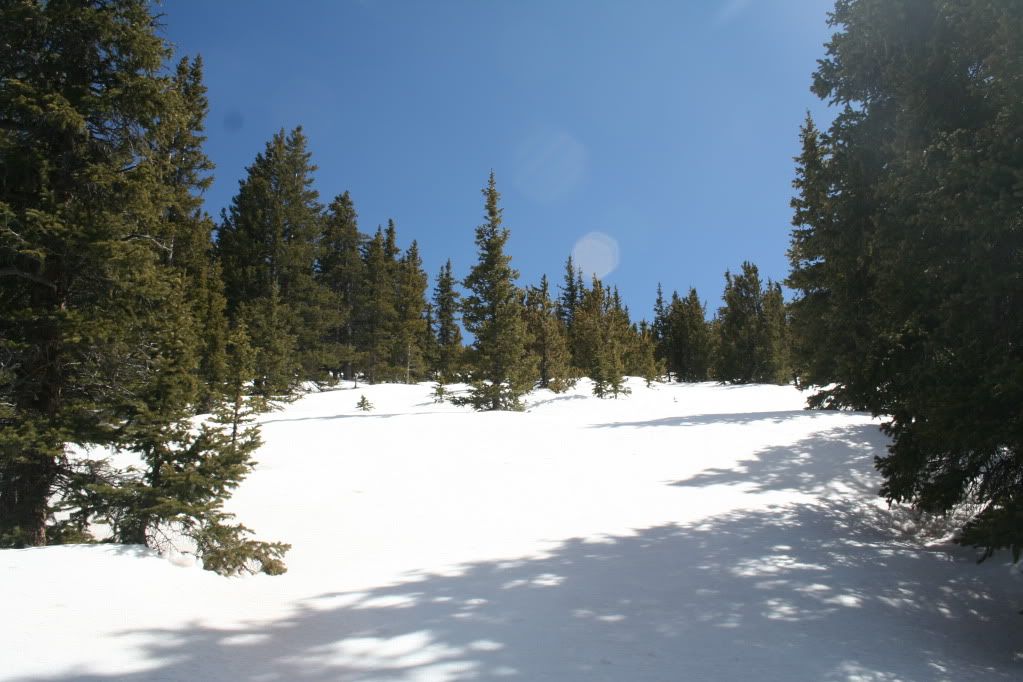 Bison & McCurdy from near the Spruce Grove TH:
---
Posts: 38
Joined: Wed Feb 18, 2009 4:47 pm
Location: Arvada, CO
Excellent beta...that is what I was hoping to learn especially about the lake park part of the loop. From your May 6th, trip it sounded like McCurdy park has no snow issues, I will just have to see what I'm in for as I do the loop counter clockwise from the goose creek trailhead.
---
Posts: 8
Joined: Sat May 15, 2010 7:29 pm
Location: Aurora, CO
Agapeman: please post the trail conditions when you finish the LCW loop. I'm planning the same hike May 23-27 and would love to get your report. Thanks to the other people who posted on this also.
---
Posts: 38
Joined: Wed Feb 18, 2009 4:47 pm
Location: Arvada, CO
I hiked the goose creek loop counter clockwise yesterday, (5-18) and all was great until the approach from refrigerator gulch up to McCurdy park. Got deep snow still on trail and the post holing got worse up to the park. The park itself was not nearly melted out either. I was wondering if it was wise to go on up through lake park as I was hiking solo and lost precious time with the slog up to McCurdy. Then I ran into a group of campers just south of McCurdy who had hiked over lake park and post holed a bunch. I was feeling it by then and decided to hike on down Brookside - McCurdy and hike back up Hankins (losing and adding almost 1000 feet
) so I could complete the loop. Hankins pass was nice but going down Hankins back to goose creek was very wet and I there were more fallen trees across the trail than I have ever seen. The loop was 24.6 miles on my gps and a elevation gain and loss of 6973! A 11 to 12 hour loop took me 14.5 due to the snow. 6.am. to 8:30 p.m. (I'm 54) It was a major day hike for me made difficult by the conditions but if doing it as a multi day backpacking trip it would not be as difficult. (Lake park may be doable too.) The pic below is about .25 miles north of McCurdy on the trail. The weather is looking like it is going to be warming up so if you have a backpack trip planned if you go counter clockwise the Parks would have more time to melt out before you got to them.
Attachments

IMG_2240.JPG (100.47 KiB) Viewed 2947 times
---
Posts: 1179
Joined: Mon May 22, 2006 9:32 am
Location: Lakewood, CO
Thanks a lot for the info! I'll be headed there a couple times in the next few weeks, so hopefully some of that white stuff will have skidaddled by then...

-Derek
"I used to think my Dad was Elvis. But I haven't told him that yet. I haven't told my Dad either." -S. Murdoch
LOJ
---
Posts: 8
Joined: Sat May 15, 2010 7:29 pm
Location: Aurora, CO
Excellent info. Thanks so much!
---
Who is online
Users browsing this forum: FireOnTheMountain, John Landers, wineguy and 26 guests