Posts: 5
Joined: Fri Feb 15, 2013 5:47 pm
Do you think a 5 year old could handle quandary peak on a good weather day in July? Wanting to start him young on 14ers, but I've only hiked 6. I'm in great shape and so is he and I've done Long's in 7 hour RT so I'm comfortable myself, but just hate to take him into something more than he's ready for. (Don't go off on me if you think it's a bad idea. I'm looking for input)
---
Moderator
Posts: 5043
Joined: Mon Jul 26, 2004 8:54 am
Location: Woodland Park, Colorado
Yes, a five year old can handle Quandary fine. Take your time and don't push too hard for the summit. Remember that it's supposed to be fun and if it's just not fun for them anymore you need to turn back.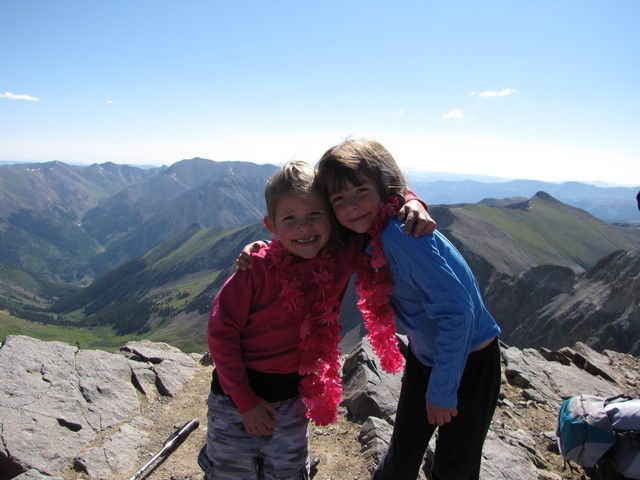 ---
Posts: 5
Joined: Fri Feb 15, 2013 5:47 pm
Thanks for sharing the pic and encouragement. It helps a lot!
---
Posts: 145
Joined: Tue Sep 16, 2008 12:42 pm
Location: Denver, CO
There are 8 year olds who have climbers all the 14ers in Colorado, so get moving!
Climb.
---
Posts: 2046
Joined: Wed Jun 15, 2005 3:39 pm
Location: Edwards (Singletree), CO
stonebaez wrote:There are 8 year olds who have climbers all the 14ers in Colorado, so get moving!
This is true, but it's the exception not the rule. Many 5-year olds aren't ready for a 14er. CO Native's advice is spot on.
---
Posts: 768
Joined: Sun Aug 13, 2006 9:29 am
Location: Rio Rancho, NM
How I
wish
my parents had started me on this at five! Yes, don't be adult OCD with him, but
go for it!
I have been to the mountaintop, and I have seen the force
and the power that animates the universe. That may not
match up with your anthropomorphic or teleological idea of
what "god" is, but it's good enough for me.
---
Posts: 263
Joined: Thu Jul 07, 2011 9:55 pm
Location: Boulder, CO
Based on 14ers.com history, I was pretty sure this thread was going to discuss how someone found a five-year-old on Quandary.
---
Posts: 17
Joined: Fri Jun 08, 2012 10:33 pm
Location: Larkspur, CO
CO Native has it right on, a 5 year can do it, but if they decide they want to quit, you have to honor that wish. You want a climbing partner for life I would assume, and catering to their needs and wants at that age is the best way to instill a love for the mountains.

I have twin boys, I took them out for their first 14'er at age 7 (after many local hikes, bikes and 10'ers). They did great, no complaints and beat me to the summit of Elbert in 2010. I did have some complaints on the last mile of the decent though and complete snoozers for the drive home. My advice would be to bring lots of snacks, drink and lunch for the young one, you already know that a hungry kid is a grumpy one. And make it clear before you set out that all he/she has to do is say the word and you both turn back, no matter how close to the top. I turned back on Yale from the saddle in 2011 cause one boy said he was ready to go home. Also make him/her carry their own pack with their essentials, it lightens your load and teaches em early to carry their own weight.

Now after 3 seasons my boys (almost 10 now) have come to me this winter with a list of peaks for next summer season, it includes a peak every other week, one night accent and one double summit, sheesh, i need to shed a few pounds.

Here's a pic of our first summit, Elbert in Sept 2010. Have fun man, hiking with your kids is a blast.



I'm the tall one wearing all cotton BTW.

@MountainMedic - I thought the exact same thing, we need to go rescue a 5yo on a peak with bleeding paws
---
Posts: 436
Joined: Fri Jul 27, 2007 9:46 am
Location: Illinois
Nattyjoemo wrote: (Don't go off on me if you think it's a bad idea. I'm looking for input)
I see you just joined the forum but obviously you've been lurking a while.
I think it's a great idea. My first 14er was Longs, and a six-year-old climbed it that day - at approximately the same pace as my 50ish flatlander group.
A vaincre sans periol, on triomphe sans gloire
---
Posts: 9
Joined: Mon Feb 11, 2013 4:43 pm
The only thing about Quandary is the wind. It can vicious up higher. Windchills can get brutal. Winter maybe a bit much for a 5 yr old?
---
Posts: 359
Joined: Tue Apr 21, 2009 1:06 pm
Location: Medina, OH
The above posters are correct. Take your time and have fun with it. We moved to Colorado when I was 5 and within a few weeks I had done my first 14er with my dad...Quandary! I've been hooked to the mountains ever since.
---
Posts: 478
Joined: Sat Oct 10, 2009 1:26 pm
Location: Sao Paulo, Brazil
MountainMedic wrote:Based on 14ers.com history, I was pretty sure this thread was going to discuss how someone found a five-year-old on Quandary.
I believe that only happens
on Sneffels
. Talk about an a**hole.
Although this does seem like a fair opportunity to shameless promote how awesome we are because of our kids.
But, yeah I agree with what Josh said. Don't underestimate their ability, but listen to their needs.
Peter Aitchison on the risks of rock climbing and mountaineering: "That's life, isn't it? We think the challenge and satisfaction you get from doing this is worth the risks."
"Respect the mountain. Train hard. Hope you can sneak up when it isn't looking."
"The mind is always worried about consequences, but the heart knows no fear. The heart just does what it wants."
---
Who is online
Users browsing this forum: Usher73 and 12 guests